Parish Weekly Newsletter | Dec 23, 2020
Wednesday | December 23, 2020 | 14:50 PM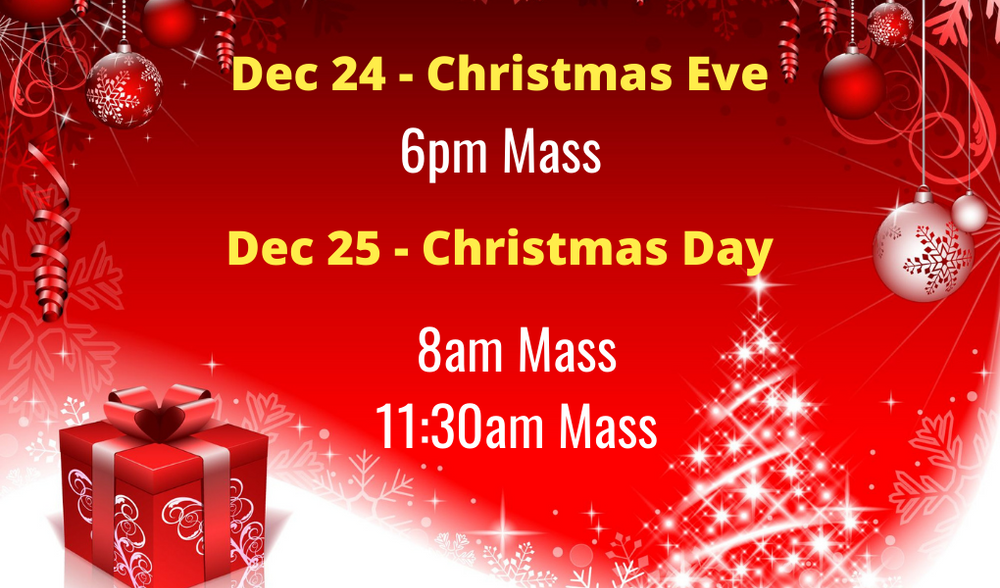 Due to capacity limitation of church building, we will add parish hall to the worship space. Parishioners arriving after the church is filled will be led to the hall to watch the mass on a livestream (you will be received communion).

Please click the link below to make reservation
Feast of The Holy Family
The St. John of the Woods Pastoral Council wishes all parishioners and their families a Blessed, holy and prayerful Christmas during these challenging times.

Some of our Pastoral Council member will be working with Fr. Tuan and the Archdiocese of Seattle to determine our parish's future in 2021 and beyond.

With your prayers and participation in this process in the coming months, we are hopeful that the new year will be a year of hope and the continuation of God's work here at St. John's

May God bless each one of you and your families

Larry Volland, Chair
SJOW Pastoral Council
As 2020 draws to a close we can look back and see we have experienced a year unlike any we have ever experienced. We are grateful to you, our parishioners for your thoughtfulness and continued support of St. John of the Woods Parish.

Closing out the first 5 months of the fiscal year 2020 - 2021, we note our Collection Revenue is down $9,900; this primary is in loose collections which we only receive when our masses are open for full capacity. Our overall expenses have been reduced as we are no longer paying resident priest wages and benefits hence tending to balance our financial condition.

Our financial outlook was enhanced recently when St. John of the Woods was awarded and received a $15,000 Parish Solidarity Fund Grant. We were one of seven parishes receiving this grant.

Due to the reduction in number of Stewardship commitment cards returned during the Stewardship of Treasure Campaign, it will be difficult to project what the last 6 months of this fiscal year may bring. We understand these are uncertain and difficult times at best for all of us. Returning your commitment card helps with planning the future of our Parish.

May our Good and Loving Lord continue to bless you, our St. John of the Woods Parish community.

Sending to you best wishes during this Holy Christmas season.
Gaye Dolan, Chair
Finance Council
New Year Mass: Friday Jan 1, 2021 @ 9:30am - Solemnity of Mary, Mother of God




We still have Mass Missal's available. Cost $3, you can purchased at Mass. Just Ask the Usher. Thank you.



Online Giving is very convenient, fast, and safe. You might want to take a tour over to see how it will benefit you and our church, especially during the time you are away from your Church. The Sunday collection is very important for our parish to maintain our fiscal responsibilities. Click here for more information and instruction: https://www.trparishes.org/70
Carol Kalapus, Connie Bender, Courtney Kryder, Jennifer Akins, Rod Stormshak, Karen Knobbe, Judith Levesque, Linda Johnson, Betty Polansky, Liam Chisholm, Evelyn Allen, Dave Casey, Susan Kitaji, Dorothy Harris, Rita Pangelinan, Larry Anderson, Damian Roldon Isaiah Williams Isaako Malo, James Moe, Robert Lumas, Remedios Laurente, Bill Miller, Anna Kaperick, Joan Ellis, Carlos & Claudia Caballero, Keith Browne, Wendy Hanchett, Larry & Ivern Rubida Irene Simon Anne Gannon, Donna & Dick Severson, Evymae Sablan, Kari Tinsely, Danny Sneed Gordan & Nichole Chisholm III, Victims of COVID-19

Military: SPC Sean Gilson, AMN Mason Land, & WO-1 Stephen Adelman
Those who around the world are affected by coronavirus pandemic
Wishing you and your loved ones a truly blessed Christmas. May Christ's love warm your hearts and bring you true joy.
SJOW Parish News
Read upcoming events Read More
Subscribe