Parish Weekly Newsletter | May 26, 2021
Wednesday | May 26, 2021 | 10:50 AM
13 students who received First Communion
at St. John of the Woods on May 22, 2021
Angel Gervacio, Alan

Eufracio Bernal, Eric Jesus

Eufracio Bernal, Giselle

Guzman, Azaleiah Gianna

Martin, Joseph Patrick

Nava-Estrada, Jose Alfredo Jr.

Nava-Estrada, Juan Jose

Nava-Estrada, Brian

Remigio Rojas, Francisco

Ventura Guillen, Stefanie

Ventura Guillen, Natalie

Zavala Mendoza, Atziri Vanessa

Webb, Daniel George
2021 - 2022 Annual Catholic Appeal
Begin May 2021 - End April 2022
This year our parish share of the Appeal is $25,719. We have raised a total of $18,549 (pledged) so far towards our goal.
If we exceed our goal, all payments above our share will come back to the parish in the form of a rebate to be used for paving and striping the parking lot.
To all those who have returned there Annual Catholic Appeal pledge card sent to them by the Archdioceses. Your generosity is appreciated and will help so many in the dioceses.
Please be sure to turn in your pledge envelope today or donate online at http://ow.ly/lq3W50EtiIt .Thank you!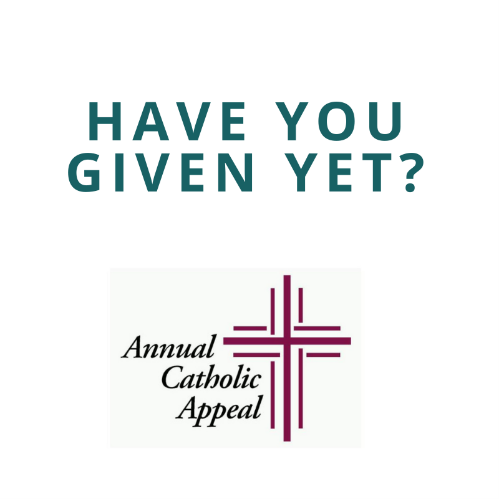 We pray for our Parish: that we may show love for one another in our support of the ministries and services funded by the Annual Catholic Appeal.
In preparation for the potential repaving of the north parking lot and the area between the rectory and parish hall, there are grass trimming, weed killing and general clean up that needs to be done. Grass between the ball field and our neighbors to the north needs to be mowed, flower beds need to be weeded.
If you have some time available to do some grounds maintenance, bring your gloves, gardening tools and clippers. There are wheelbarrows behind the rectory. Come on your own schedule, choose a location and work for whatever time you have available. Your help with this clean up is appreciated. Thank you for helping to keep our parish grounds flourishing, and your support of St. John of the Woods.
Corpus Christi
Concluding Year of the Eucharist
You are cordially invited to join your fellow Catholics in celebrating Corpus Christi on Sunday June 6, 2021 at St. Ann Parish
Mass at 9:45am, followed by a solemn procession of the Eucharist

Mark your calendar and prepare for this great coming social parish event
Covid-19 Guidance
Archdiocese of Seattle
May 20, 2021 | VOL. 2 No. 8
Overview
As you know the latest safety guidance, vaccination rates and coronavirus rates are all rapidly changing. We are keeping a pulse on all of it and balancing it with our desire to provide you with the best guidance possible. We will continue to track the pilot parishes, how other diocese are moving forward, as well as our own local virus and vaccination rates. We will continue to make sure our guidelines are in sync with other sectors of society. Thank you for your patience and flexibility as we continue this work.

Masks are Safer for Now
After much review, at this time, we will continue wearing masks in all Catholic parishes in the Archdiocese of Seattle. We request people wear a mask for everyone's continued health and safety. There are still many benefits to wearing a mask, including protecting those who are unable to vaccinate, and keeping us from touching our faces and spreading a virus, which also allows us to decrease our surface cleaning. As has been standard, we recommend every parish provide disposable masks for parishioners who may show up without them.
Fresh Food Distribution at 9am Saturday May 29 (St. Ann Parking Lot)




St. Vincent de Paul Food Bank at SA Opens on Tuesdays and Thursdays From 10:00AM to 11:45AM. Please contact: Richard McMakin or Louis Matej at (253) 468-9841




Please do not donate expired dated food items, we cannot accept these at SVDP. Thank you.




Out Parish office will be closed Monday May 31st in observance of Memorial Day
Judith Levesque, Linda Johnson, Kari Tinsely, Rita Pangelinan, Susan Kitaji, Courtney Kryder, Jennifer Akins, Natalie Vieria, Gordon & Nichole Chisholm III, Rod Stormshak, Helen Wilke, Carlos & Claudia Caballero, Wendy Hanchett, Joan Ellis, Connie Bender, Bill Miller, Evymae Sablan, Lucy Romo, Gary Wilke, Damian Roldon, Isaiah Williams, James Moe, Larry Anderson, Larry Luedke, Sara Romo, Dave Casey, Keith Browne, Dave Cantlin, Anne Gannon, Bob Smith, Robert Lumas, Anna Kaperick, Gloria Lucero, Dorothy Harris, Liam Chisholm, Carol Kalapus, Donna & Dick Severson, Evelyn Allen, Danny Sneed, Betty Polansky, Isaako Malo, Larry Rubida, Irene Simon, Victims of COVID-19.
Military: SPC Sean Gilson, AMN Mason Land, & WO-1 Stephen Adelman
SJOW Parish News
Read upcoming events Read More
Subscribe