Weekly Newsletter | 11. 24. 2021
Wednesday | November 24, 2021 | 12:20 PM
Weekly Newsletter
St. John of the Woods Mission
11/24/2021
The First Sunday of Advent
Please read the Gospel for this Sunday Luke 21:25-28, 34-36.
In the Gospel Jesus describes the end of the world in apocalyptic (not scientific) images. The faithful will see the Son of Man (a title of Jesus) coming on a cloud with power and glory to claim his faithful. As we begin Advent, we think of the Lord's comings at Bethlehem, as he comes now into our lives, and as he will come at the end of the world.
Dialogue: During Advent the celebrant's vestment are purple. They call us to become more reflective, thoughtful, and quiet. How can you and your family maintain an Advent spirit of preparation for the celebration of the Lord's birth in the face of the Christmas advertising, music, decorations, parties, etc.? Do you have a Christmas crib, or will you get one, or you can use a Christmas card picturing the birth of Jesus? How can the family help arrange your Christmas manger?
Activity: Set up a simple Advent wreath in your home (4 candles, light one each Sunday, marking the light of Christ shining more brightly as we approach Christmas). Pray a simple prayer asking the the light of Jesus shine into the heart of each family member. Have the children, or grandchild draw a Christmas card, buy one, or copy one from the internet free clip art (Christmas scene), and send it to grandparents or someone special along with Christmas Greetings and a prayer.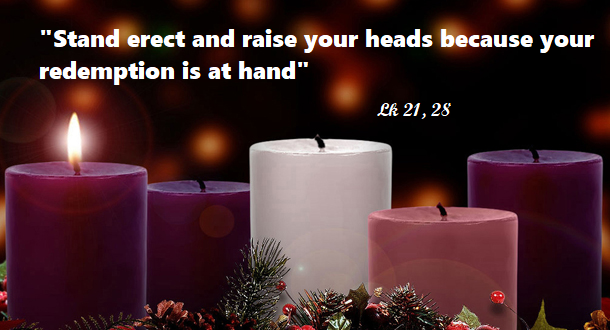 Speaker: Fr. Vaiula Iulio
Tuesday, Dec 7, 2021
At St. Ann Parish - 7025 S Park Ave
Mass at 8am, followed by the reflection
All are invited
Extra Confessions - At St. John of the Woods:
Confession will be heard during Holy Hour Monday evenings 7 to 8pm & after 9:30am Masses on Wednesday and Friday as well as by appointment.
Weekly Contribution:




November 7, 2021 81 envelopes total $7,715.00




November 14, 2021 71 envelopes total $4,139.50
Stewardship of Treasure Renewal 2022




Families returned commitment card: 93




Pledges: $153,904
Stewardship of Treasure 2021 Status (as of Oct 31)




Families committed: 166




Pledged: $207,308




Received: $182,010




Balance remaining: $25,298
Annual Catholic Appeal 2021 Status (as of Oct 31)


Goal: $25,719
Pledged: $33,696
Gift Received: $29,615
Potential Rebate: $7,977
Called To Serve As Christ (as of Sep 30)




Gift Received: $112,905




Parish Rebate: $16,935
Thank You All So Much!!!
Thursday 11/25


Thanksgiving Mass
9:30 am



Friday 11/26


Funeral Mass - Helen Wilke
11:00 am



Sunday 11/28


No CCD class
Thanksgiving Break



Monday 11/29


RCIA Regional Class
Lesson: The People of God
6:30 pm - 8:30 pm

Holy Hour
7:00pm - 8:00pm



Wednesday 12/1


Eucharistic Adoration


10:00am - 11:00 am - in Church



Senior Lunch Box
11:30 am - in Hall
Please call Paula 253-507-5705 or Pat 253-537-4077 to reserve your lunch by the Monday before


Thursday 12/2
Public Health Depart hosts a clinic of Covid booster shot at St. Ann school
5:00pm - 7:00pm



Tuesday 12/7


Advent Retreat


8:00am - 10:30am - St. Ann Church





Wednesday 12/8


Solemnity of Mary Immaculate Conception


Mass at 9:30am & 7:00pm




Celebration of Our Lady of Guadalupe
| | |
| --- | --- |
| | At the 11:30 Mass on Dec. 12, we will honor Our Lady of Guadalupe with our Hispanic Families and children preparing for 1st Communion. There will be a statue of Our Lady of Guadalupe in the sanctuary and you are welcome to bring a flower or a glass container candle and place them by our Lady. After Mass please take your flower or candle home since it is Advent. |
Liturgical Calendar
Nov 28 - Dec 4
Gordon & Nichole Chisholm III, Carlos & Claudia Caballero, Donna & Dick Severson, Roxane Fulp Bob Smith, Judith Levesque, Joan Ellis, Linda Johnson, Kari Tinsely, Rita Pangelinan, Dave Casey, Susan Kitaji, Natalie Vieria, Courtney Kryder, Helen Wilke, Jennifer Akins, Jonathan Keen, Rod Stormshak, James Moe, Wendy Hanchett, Bill Miller, Connie Bender, Gary Wilke, Evymae Sablan, Isaako Malo, Damian Roldon, Irene Simon, Isaiah Williams, Anne Gannon, Larry Anderson, Larry Luedke, Keith Browne, Anna Kaperick, Robert Lumas, Larry Rubida, Dorothy Harris, Liam Chisholm, Carol Kalapus, Evelyn Allen, Danny Sneed, Betty Polansky, Victims of COVID.
Military: SPC Sean Gilson, AMN Mason Land, and WO-1 Stephen Adelman, Isaac Armitage.
SJOW Parish News
Read upcoming events Read More
Subscribe