Parish Weekly Newsletter | 10. 14. 2021
Thursday | October 14, 2021 | 09:42 AM
Annual Report
FY 2020 - 2021
An Annual Report Fiscal Year 2020 - 2021 has been mailed to your house. This report gives parts of the picture of what we have achieved in the past year and how we are striving for the years to come.
This report is also a Big Thank to all parishioners of St. Ann Parish. Thanks for your stewardship of Time, Talent, and Treasure. Thanks for everything you have done to strengthen our faith community here at St. Ann Parish.
Click the Picture below for electronic version of Annual Report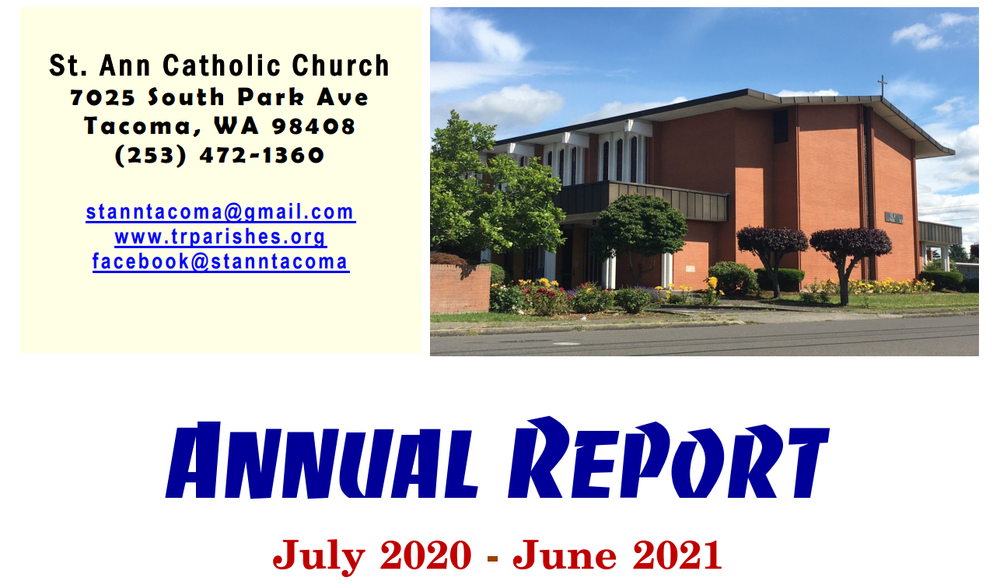 Stewardship of Treasure
Weekly Offering
Contributions for Weekend of Oct 11:
$5,987 149 envelopes
Online Giving: $1,532 (Oct 4 - 11)
Vietnamese Fundraising Coffee & Breakfast: $1,125
Thank you for your continued support to the parish
Pfizer Booster Shot @ St Ann Church
Public Health Department will open a clinic at St. Ann site:
Thursday, October 28th 2021
From 5pm - 7pm
COVID-19 Vaccine booster shots are available for the following Pfizer-BioNTech vaccine recipients who completed their initial series at least 6 months ago (before April 28) and are:
Please let Sr. Kim 253-304-8929 or Minh 253-583-6703 know if you want to get a booster shot. The Public Health Department needs to know the number of people ahead of time in order to prepare the shot.
Annual Thanksgiving Food Drive
St Vincent de Paul at St. Ann is collecting non-perishable food items to fill baskets for Thanksgiving.
Please be generous when giving to help make this holiday a wonderful time for all. Each item is greatly appreciated!
The following is a list of suggested items needed to fill Thanksgiving Baskets: Spaghetti Sauce, Spaghetti, Peanut Butter, Canned Sweet Potatoes, Stuffing Mix, Instant Boxed Potatoes, Boxed Scalloped Potatoes, Turkey Gravy, Cranberry Sauce, Black Olives, Canned Pumpkin Mix, Evaporated Milk, Canned Meat, Cereal, Tuna Helper, Canned Soup, Canned Fruit, Canned vegetables, Canned Baked Beans, Ravioli or Chile and Dessert.
Non-Food Items needed: Dental Hygiene Products, Laundry Supplies, and First Aid Supplies.
If you are needing assistance with food for Thanksgiving, please call St. Vincent de Paul at St. Ann at 253-228-4817 or 253-230-4247, Tuesdays and Thursdays between 10AM – 11:45 AM. Thank you so much for your continued generosity
Catechetical Certification Program
The Archdiocese of Seattle is offering a 6-to 8-month Catechetical Certification Program (CCP) for parish staff, volunteers, adult learners, and parents of homeschoolers. This program provides the foundation for knowing, living, and teaching our Catholic faith.
Carlos Carrillo, director of Faith Formation from Seattle is currently setting up the Catechetical Certification Program in our regional parishes. It will be conducted at St. Ann on Saturdays. Each class is 3 hours for a total of 7 classes.
The Formation/Training classes include watching and studying videos corresponding to the Tasks of Catechesis and Methodology, attending a retreat, observing and preparing for teaching classes. Participants will receive a Catechetical Certification Certificate after the completion of the program.
IN-PERSON Cohort for 2021-2022!
Saturdays, 9AM –12PM, at St. Ann Parish Hall, Tacoma. 1. October 23; 2. December 4; 3. January 22; 4. February 19; 5. March 26; 6. April 30 and 7. June 4.
This program provides the foundation for knowing, living, and teaching our Catholic faith.
Program cost is $75 per participant.
Class is open to all. Please sign up with Monty 253-304- 4473 or Click HERE to register online
Sat 10/16
Vovinam Martial Art Class - 9:30am - School
Rosary Rally - 12pm - St. John of the Woods church

Sun 10/17
Viet Cafe & Deli - 8:30am - school lobby
Viet Faith Formation classes - 9:30am - school



Mon 10/18


Regional RCIA class - 6:30pm to 8:30pm - school
Yoga Class - 6pm - school


Tue 10/19
St. Vincent de Paul - 10am - 11:30am - in school



Wed 10/20


Veneration to St. Joseph with Benediction - 8am to 8:30am - Church
English Faith Formation classes - 6:30pm to 7:20pm - school


Thu 10/21
St. Vincent de Paul - 10am to 11:30am - school
Holy Hour - 4pm to 6pm - church
Liturgical Calendar
Oct 10 - Oct 16
Pastoral Plan Activities and Prayer
October 17
lease read the Gospel for this Sunday Mark 10:35-45.
In the Gospel Jesus teaches the disciples that to follow him that are to act as servants to all. They have a difficult time understanding and accepting what Jesus is asking of them. It is not until they see Jesus giving his life in loving generosity on the cross and the new life of his resurrection that they begin to understand. We, too, find generous service to all difficult to accept and put into practice

Dialogue: What are some of the cross you as a family face (financial worries, sickness, care of relatives, job or school issues, others)? How do you handle the multiple demands and expectations, the corona virus restrictions, etc. placed on you?

Activity: How can each family member support (serve) each other when the crosses weigh heavily? Make a list of the crosses, difficulties, frustrations etc. that you and the family face? Write them down and place them before an image of the Lord, or behind a crucifix and ask the Lord to strengthen you and the family. Before coming to Mass, ask each member to pray asking God's blessing and strength as you or the family try to serve and help each other or a member who faces some particular difficulties
ROSARY RALLY - PRAYING FOR PEACE




Our nation is in great need of public prayer, repentance and conversion. We ask God to save America through the Rosary of His Most Holy Mother. Please join us in praying for our nation on

October 16, 2021 at 12:00 noon. The local Public Rosary Rally will take place at St. John of the Woods Church 9903 24th Ave. E., Tacoma.



WORLD MISSION SUNDAY
In a world where so much divides us, World Mission Sunday reminds us of our unity as children of God and missionaries of His word. It is a chance to answer our baptismal call to mission, and to offer our prayers and support to those helping His church around the world. The collection today for the Society for the Propagation of the Faith supports the work and witness of the Mission Church, as it provides for priests, religious and lay leaders who offer the Lord's mercy and concrete help to the most vulnerable communities in the Pope's missions. Thank you for your generosity.





UPDATE ON FR. HENDRY'S EXPECTED ARRIVAL




Due to Covid-19 international travel restrictions Fr. Hendry's arrival has been delayed. An announcement of his arrival will be made as soon as we have a definite date. At this time we are blessed to have Fr. Jose Hernandez, Fr. Vaiula Iulio, Fr. Luan Pho who are here to help Fr. Tuan and Fr. Pat with Masses weekdays and weekends from October to December 2021 in our regional communities. God is good to us.





WASHINGTON STATE CATHOLIC CONFERENCE
Top 3 reasons to attend VIRTUAL Cornerstone Catholic Conference
• Ignite your Catholic faith
• Be inspired by faith-filled leaders
• Grow as a disciple of Jesus Christ
REGISTER TODAY for FREE at wacatholics.org.






Muriel Bate, Olivia Davis, Kathleen Genge, Wayne Haverkorn, Nancy Jones, Jackie Lane, Terry Mathern, Doris McGuire, Wesley McMakin, Helen Murray, Neagle Family, Donald Orris, Olivia Ripka, Bernadette Robinson, Rayanne Richardson, Valerie & Jerry Rochefort, Milla Schlatter, Eldon & Marge Weber, Joan & Woody Woodring, Virginia Wooten
We pray for all servicemen and servicewomen and their families.
We pray for all those around the world suffering from the coronavirus.
If anointing of the sick please call Sr. Anna at 253-592-2455.
St Ann Parish News
Read Parish Weekly Newsletter to stay updated with your parish... Read More
Subscribe